Darnelle Zimmerman, RN, Elder Care Specialist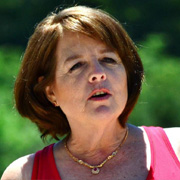 Darnelle is a graduate of University of California, San Francisco, School of Nursing. She has worked with Chris, her husband, since the early years of Alameda Elder Communities (AEC) and is the driving force behind AEC's excellent care programs. Her expertise is in the development and maintenance of the health care component of AEC. Under her direction, all care providing members of AEC have been recognized for superior care. Up until recently, when she gave up management control to the local hospital, Waters Edge Nursing Home enjoyed more than four years of 5-star status from the federal Medicare rating system, an honor only achieved by the county's top 10% of nursing homes.
Darnelle's function on the development team is to provide cost effective health care delivery and monitoring systems, to help the members of Phoenix Commons achieve optimum health. She believes that if people are to age successfully at home, they must have good monitoring systems and facilities & staff available to assist when needed. Darnelle's foremost contribution to the development team is to help facilitate the achievement of a truly "universal design," one that incorporates not only physical or architectural amenities, but also social and medical systems meant to seamlessly support individuals in their desire to remain independent throughout life.